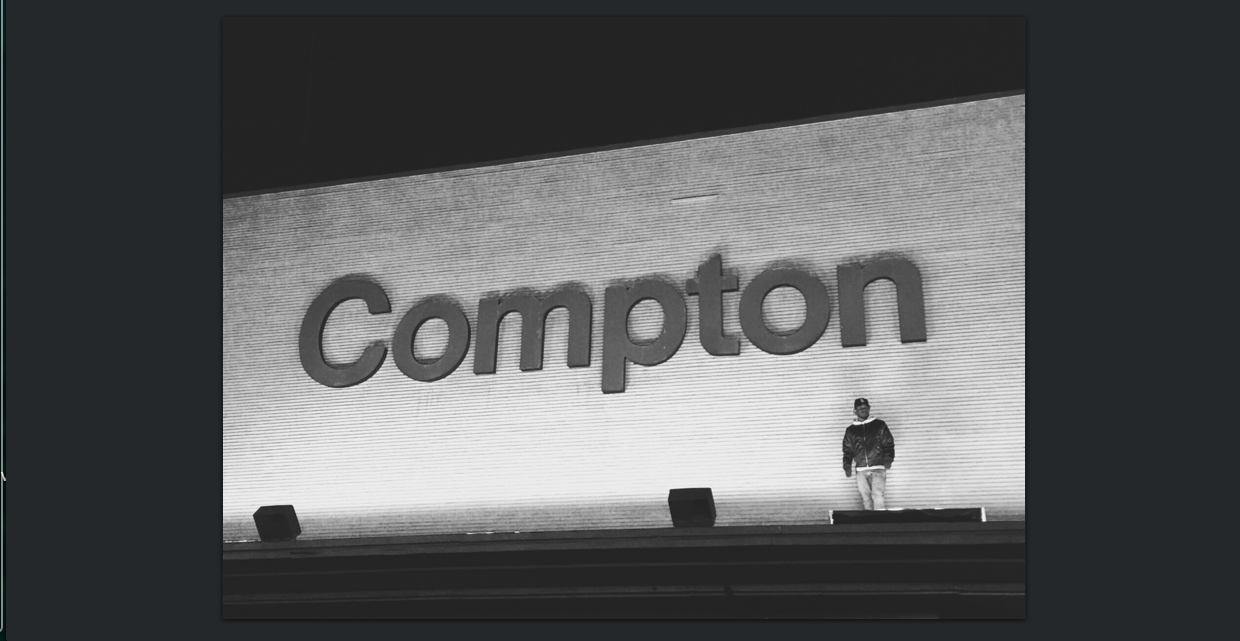 https://www.33carats.com/premier/revue-dalbum-kendrick-lamar/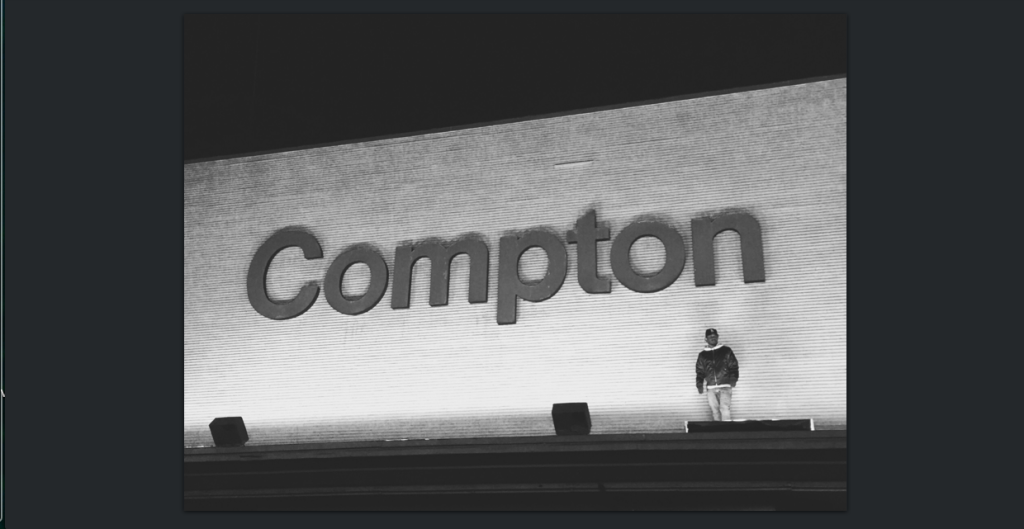 Pour ce sujet musique, c'est la sortie de l'album To Pimp a Butterfly de Kendrick Lamar qui prend une route inattendue. La West Coast qu'on aime semble revenir en force à travers l'imagerie hip hop qui la caractérisait dans les années 90. Sur place, il faut prendre la direction de Compton pour décrypter l'essence, la naissance et la renaissance du mouvement gangsta rap. Ces symboliques ont marqué une génération et Ice Cube et Dr Dre tiennent à le préciser clairement à l'occasion de la sortie en août prochain de la biopic de l'histoire de leur groupe emblématique, NWA. Peut-on considérer Kendrick Lamar, comme leur successeur tant attendu?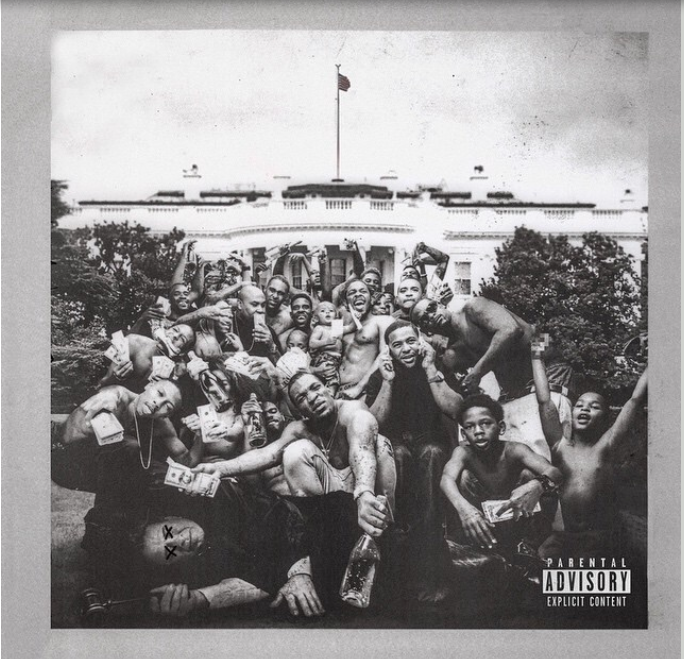 Une promotion guérilla style
Pas de date de sortie officielle mais un gros teasing sur les réseaux à une semaine de la sortie de To Pimp a Butterfly le second album de Kendrick Lamar, rappeur et surtout excellent lyriciste de 27 ans. Ce qui rappelle que le succès de Kendrick Lamar vient ses premières mixtapes, Overly Anticipated en 2010 et le très acclamé Section.80 en 2011. To Pimp a Butterfly est une dédicace à ses fans de la première heure. Le nouveau street marketing se passe sur les réseaux sociaux comme Instagram, pour remplacer les affiches et flyers aux coins des rues et Twitter pour remplacer tags promotionnels autrefois effectués à la bombe sur les murs. Des millions de partages qui ont fait de cette pochette prise par le photographe français Denis Rouvre, un sujet tendance durant les premières semaines du mois de mars de cette année.
Pourtant cette pochette est pour bien des raisons dérangeante et politiquement incorrecte. On y voit des jeunes venus de leur banlieue californienne avec des expressions et attitudes irrévérencieuses en mode ussies (l'équivalent du selfie à plusieurs) devant la Maison Blanche écrasant un juge. On pourrait presque imaginer que ces jeunes afro-américains sont dans l'attente de se faire accueillir par Barack Obama, le(ur) premier président afro-américain, en fin de second mandat. Car il serait temps. Après tous ces évènements, et les slogans actuels de la communauté afro-américaine qui dénoncent une génération qui ne peut toujours pas respirer. Mais hélas, la deuxième de couverture de l'album ne relatera pas ce type de dénouement. A la veille de la sortie du film très anticipé Straight out of Compton, retraçant l'histoire dans les années 90, de NWA, le groupe emblématique composé de Dr Dre, Easy et Ice Cube, les fondateurs du gansta rap, Kendrick Lamar reste proche de cette réalité 20 ans plus tard, mais apporte une alternative au fameux  F*ck the police, du groupe, qui soulèvera à l'époque un grand nombre de débat dans une Amérique incapable de comprendre ses jeunes.
Revenons à cette pochette d'album. Ce qui semble rester à ces jeunes, en 2015, à moins d'un an avant la prochaine campagne électorale présidentielle, c'est le hip hop. Et Kendrick Lamar, comme il l'explique est la seule figure avec un message que ces jeunes souhaitent écouter.
Contestation
Ce besoin de contestation est aussi présent sur la pochette de Messiah de D'Angelo et son groupe the Vanguard, l'album attendu depuis 15 ans par la génération nu-soul. En effet, malgré la différence générationnelle entre un D'angelo devenu crooner de ces dames par son statut d'ancienneté et Kendrick Lamar l'idole des jeunes (et des hipsters en quête d'exotisme dans leur playlist Deezer ou Spotify), tournent le miroir ou la camera de leur smartphone pour faire un état des lieux dans lequel le début de questionnement commence par soi. Cette dualité qui montrent que le hip hop et la nu soul ne sont pas cousins pour rien et que la ligne entre les deux styles musicaux est très fine.
« U » pour la chenille, « I » pour le papillon
See Also
De l'intro funkédélique de Georges Clinton, au délire pur jus West Coast, King Kunta, à une collaboration improbable avec Bilal pour These Walls, To Pimp a Butterfly est un album complet. Au passage, les arrangements et certaines interventions de Dr Dre rendent l'album encore plus précis. Des bruits circulent qu'un projet Lamar/Dre serait à l'horizon…
La touche positive qui pourra aussi conquérir une audience plus cool et moins à l"affut de d'une imagerie pesante est "I". Ce hit qui laisse place à un Kendrick Lamar en mode "happy" marque l'envie du rappeur de célébrer son victoire post dépression. Une dépression, qu'il a essayé de noyer dans l'alcool comme il l'explique dans la chanson « U ». Dans une interview le rappeur souligne qu'il s'est retiré de la scène pour des raisons extérieures au milieu musical. Il confie que son succès l'a rendu une proie facile face aux demandes de son ancien et nouvel entourage. Et à l'apogée du succès de son premier album Good kid, m.A.A.d City sorti en 2012, il révèlera s'être senti incapable de résoudre les problèmes persistants de son entourage liés à la drogue, la délinquance et la violence. C'est la mort d'un de ses meilleurs amis en son absence qui l'affectera et l'amenera à prendre une pause :  "c'est difficile de voir que quand tu es de retour à la maison (Compton) tout l'argent que tu peux donner n'arrangera rien, il y a des problèmes que l'argent ne règlera jamais".
Mais tanpis. « I » c'est le morceau de l'envol, celui où tout le monde s'enfuit de même de Compton, et utilise son énergie et sa liberté pour être heureux malgré tout. Un jour à la fois. Et c'est ce qui semble avoir réussi à ce jeune homme. Donc, respect à la nouvelle version du O.G : Kendrick Lamar